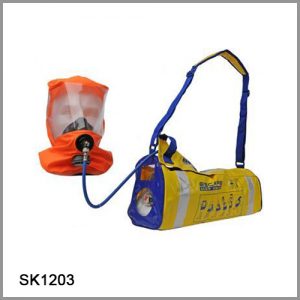 Used for self-rescue in all the environments where dangerous situations may occur due to fire fumes or leak of oxygen.
SK 1203 is extremely easy to use and it does not require special training, the air flow is automatically activated when the hood is taken out from the bag and it supplies the operator with a constant flow of breathable air for 15 minutes.
The small weight and the special ergonomic shape of the bag enable to carry the apparatus SK1203 along in a ready for use status even for long periods so that it can be donned and activated immediately in case of emergency.
Valve / Pressure Reducer : provided with gauge for the continuous reading of the cylinder charge.
Volume / Cylinder Working Pressure : 2 l / 300 bar.
Air reserve 550 N litres.
Flow : about 36 l/min.
Autonomy : more than 15 minutes.
---
Quick Inquiry